Welcome to the press kit for Intuitive Advisor Lynn Robinson!
Top business executives and cultural icons around the world, including Bill Gates, Donald Trump, and Oprah, are revealing that following their gut instincts is a major key to their success. Intuitive advisor, speaker, and best selling author Lynn Robinson assists individuals and companies in learning how to access and listen to their intuition.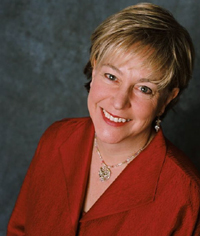 Nearly everyone has experienced the sinking feeling of knowing that, had they followed their intuition, things would have turned out differently. In business or in personal life, the consequences of not listening to an instinct can be disastrous.
Intuitive advisor Lynn Robinson has been coaching people on finding and following their intuition for more than 20 years. Lynn knows that it is all too easy to get busy or frantic and forget to listen to the inner voice that says helpful things like "this guy is bad news" or "this deal is not going to work out."
Through her speaking engagements, consulting practice, books, audio courses, and more, Lynn Robinson helps individuals and companies


· Gain insight into personal and business relationships
· Learn how their intuition communicates with them and how to trust it
· Establish a clear vision for themselves and their company
· Uncover their stuck places and figure out the next steps
One of the preeminent experts in the country on the topic of intuition, Lynn Robinson is regularly called on by the media to discuss intuition, stress, starting over, making good decisions, overcoming worry, and more.
Find out more about Lynn Robinson and her consulting services, speaking engagements, and books at www.lynnrobinson.com.
Download a One Pager.
Media Contact is Michelle Tennant: 828.749.3200 or Michelle@PublicityResults.com